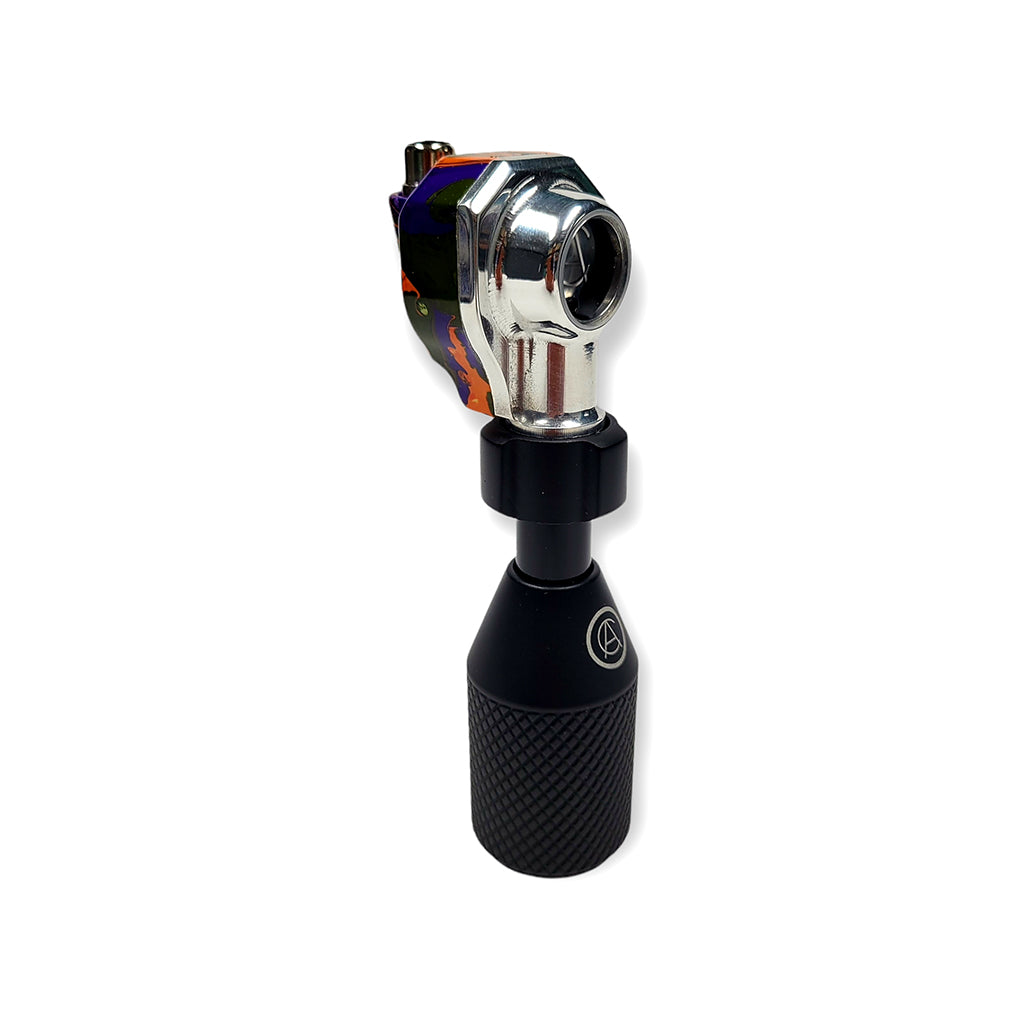 PEARL ROTARY (Click Grip Included)
Now included is our proprietary motor protection circuit board design by Tattcom exclusively for CA Rotary.This along with our Click Grip will significantly increase the life of your motor.    * Grip Is included.  * Two-Tone will always have a black anodized rear body & front polished  The Pearl rotary tattoo machine by CA Rotary is the last word in precision machined quality.  All components are proudly made in the USA in Miami Florida. Weighing only 2 oz its Faulharber motor packs a punch to rival any coil machine.   The Pearl also accepts all conventional back stem and screw-on style cartridge grips without the need for adapters.   Standard with all Pearl purchases: -Tattcom Integrated Motor Protection Board - Adjustable CA Rotary Click Grip ($149 value) -3.75 mm, and 4.0 mm cam - (providing you the best of both worlds without asking you to purchase multiple machines). - Custom hard tin storage box - Heavy-duty six foot  90 degree RCA cord (Made by Lucky Supply $45 value).  -6"x 6" CA Rotary cleaning cloth.   Features:-Dimensions: 2 1/4"L  x 1 1/8"W x  1 1/2"H  2 oz -Optimal operating voltage is 6V - 8V  for lining, color packing & shading(we always recommend using a power supply made by Critical or Tattcom) -6061 Aircraft-grade aluminum  This is a cartridge machine only
Now included is our proprietary motor protection circuit board design by Tattcom exclusively for CA Rotary.This along with our Click Grip will significantly increase the life of your motor.  
 * Grip Is included. 
* Two-Tone will always have a black anodized rear body & front polished 
The Pearl rotary tattoo machine by CA Rotary is the last word in precision machined quality.  All components are proudly made in the USA in Miami Florida. Weighing only 2 oz its Faulharber motor packs a punch to rival any coil machine.  
The Pearl also accepts all conventional back stem and screw-on style cartridge grips without the need for adapters.  
Standard with all Pearl purchases:
-Tattcom Integrated Motor Protection Board
- Adjustable CA Rotary Click Grip ($149 value)
-3.75 mm, and 4.0 mm cam - (providing you the best of both worlds without asking you to purchase multiple machines).
- Custom hard tin storage box
- Heavy-duty six foot  90 degree RCA cord (Made by Lucky Supply $45 value). 
-6"x 6" CA Rotary cleaning cloth.
Features:

-Dimensions: 2 1/4"L  x 1 1/8"W x  1 1/2"H  2 oz
-Optimal operating voltage is 6V - 8V  for lining, color packing & shading
(we always recommend using a power supply made by Critical or Tattcom)
-6061 Aircraft-grade aluminum
 This is a cartridge machine only